Roda de Choro Berlin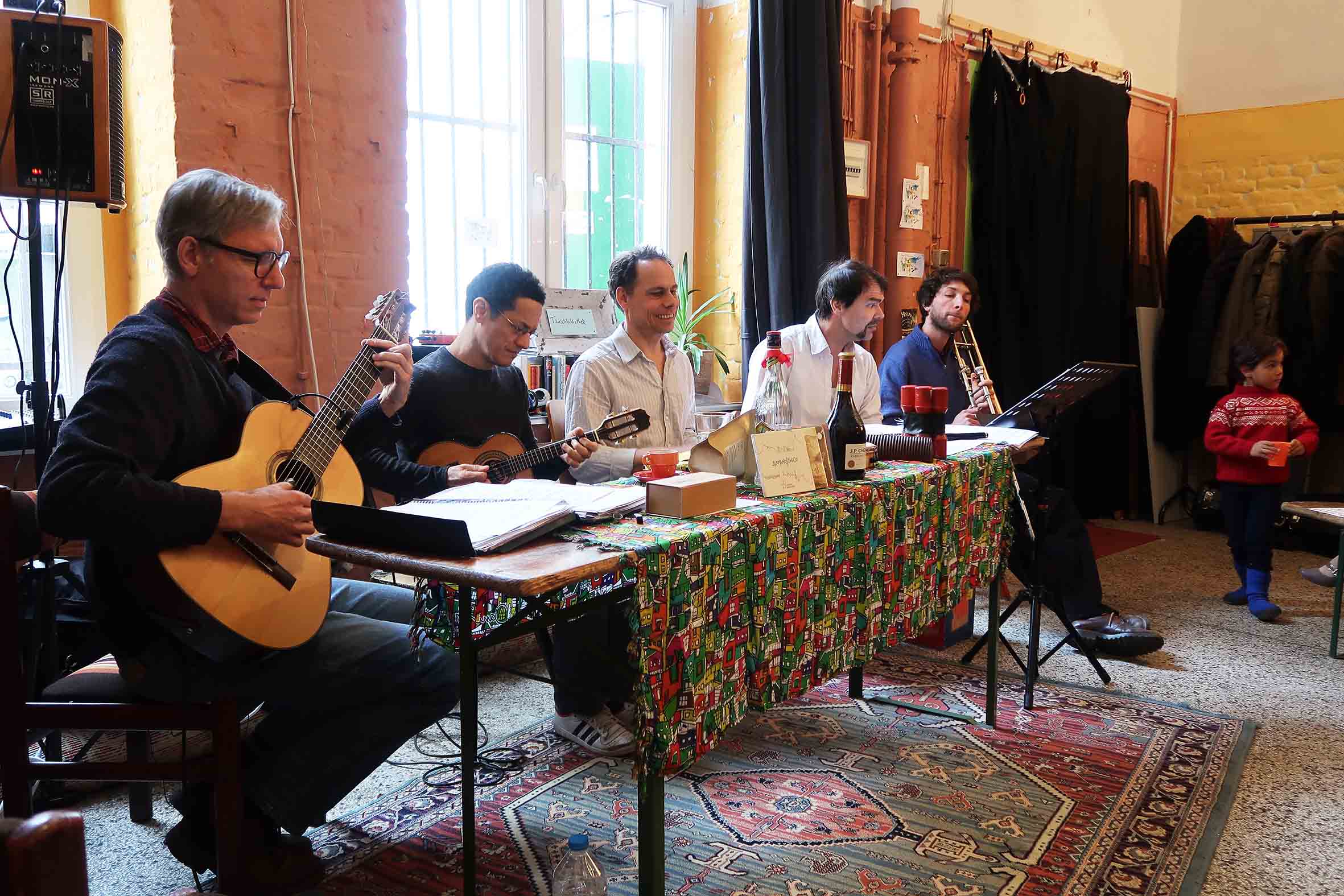 Once a month, on a Sunday afternoon, we celebrate the Brazilian "Roda de Choro" in Berlin. A Roda de Choro (roda = circle) is a jam session for musicians that are into the Brazilian choro-style, and is open for listeners, dancers and music lovers. We always open the session with our "house"-band: Matthias Haffner: pandeiro, percussion Eudinho Soares: cavaquinho Hartmut Preyer: 7 string guitar Johannes Lauer: trombone Sascha Friedl: flutes Every time, we invite guest musicians from Brazil or elsewhere to join the "roda". Access is free, donations are welcome and necessary! The session takes place from 15.00 - 20.00 in Wedding / Berlin. More information about the exact dates and address on request (info@matthiashaffner.com).
---
Hit´n Honk
With Hit'n'Honk, you will discover four of the best drummers from Berlin performing with four wind instruments virtuosos, making you travel musically through the world. They bring sounds and rhythms from Accra, Havana, New Orleans, Istanbul and Rio to Berlin.
---
Gosto Delicado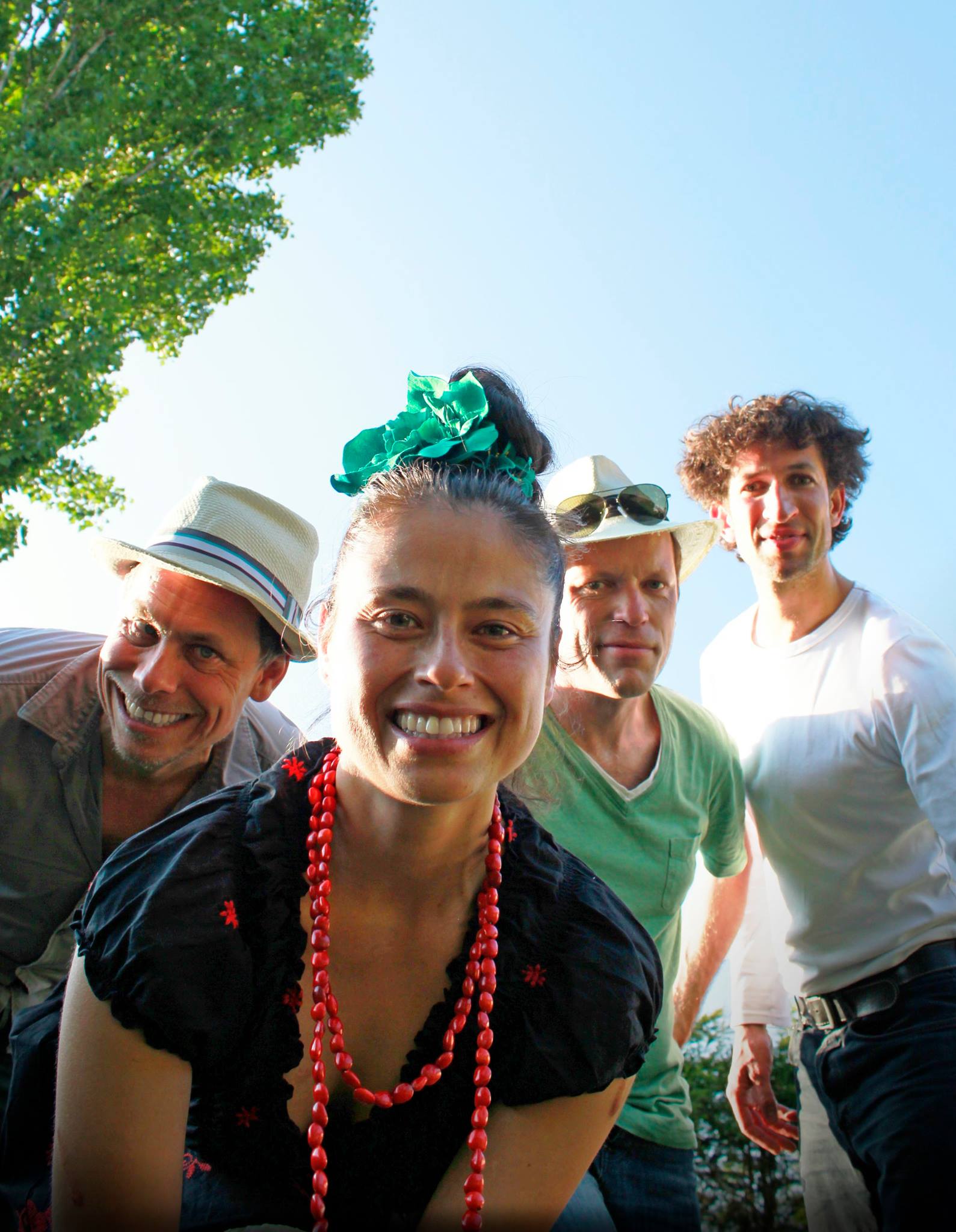 Coming from diverse horizons yet facing one direction to allow an elegant, joyful music live beyond the limitation of borders. Inspired by Brazilian music with its immense stylistic diversity, Gosto Delicado takes you on a very personal journey through space and time: From the well-kept dance hall of the Choro to the hills of the favelas, where the hot air vibrates to the rhythm of the Samba, past the Bossa novelties nightclubs of Ipanema and the big stages of the MPB ... Pia Miranda: vocals, trombone Olivier Lob: 7-string guitar, vocals Felix Hildebrandt: acoustic bass Matthias Haffner: percussion set-up
---
Nabil Arbaain & Matthias Haffner: Duo oud and frame drum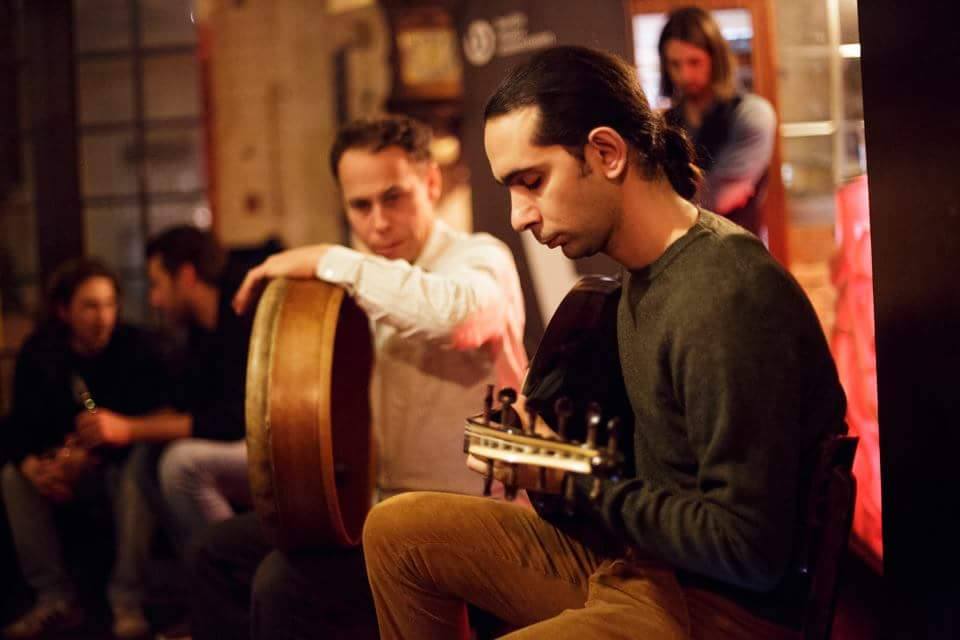 Nabil Arbaain is a Syrian Oud player from Damascus, living in Berlin. Matthias Haffner is a Berlin-based percussionist. Together, they want to set some positive vibes against the terror in Syria. Nabil plays the Arabic Oud, a pear-shaped string instrument and the ancestor of the guitar. Its sound combines perfectly with the Arabic percussion instruments such as the frame drum or Tar, the Riq or the Darbuka. The Duo plays own compositions as well as traditional Syrian music, in beautiful melodies and rhythms like the Samai, Lef or Maksum. Nabil Arbaain: Oud Matthias Haffner: Frame Drum, Tar, Riq, Tof Miriam
---
Cariopa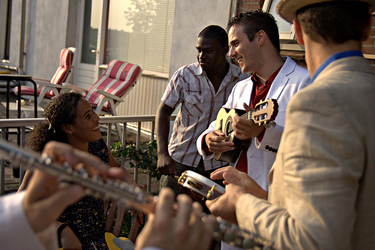 Brazil, Rio de Janeiro, sun, choro and samba. Cariopa (a mix of 'Carioca', native of Rio de Janeiro, and Europe) is a group of four European musicians playing the finest Brazilian Choros and swinging sambas with passion, warmth and a big smile on their faces. They all traveled, studied and gave concerts in Rio de Janeiro, Brazil, and therefore they brought with them the authentic Brazilian swing. Cariopa play their compositions as well as beautiful compositions by Pixinguinha and Jacob do Bandolim. In the fall of 2014 they will release their first CD with original compositions, with very special guest Julião Rabello (Rio de Janeiro) on the seven-string guitar. Also Lilian Vieira and Fulvia di Domenico will contribute with their amazing voices! Cariopa is: Kees Gelderbloom: 6-string guitar Marijn van der Linden: cavaquinho Marcelo Rosário: 7-string guitar Remko de Landmeter: flutes Matthias Haffner: pandeiro guest musicians: Julio Rabello: 7-string guitar Lilian Vieira: vocals Fulvia di Domenico: vocals Website: www.cariopa.com
---
Fulvia
Brazilian beats with a twist of Dolce Vita Fulvia di Domenico was born in Rome, Italy, and grew up travelling between Africa, France, Spain and Italy itself. She studied languages and literature at the University in Rome but secretly kept cultivating her passion for singing, which grew since childhood. In 2002 she came to the Netherlands to study Jazz and World music at the Rotterdam's Conservatory, from where she graduated in 2006. The band 'Fulvia' is an international gathering of musicians who play together since 2003 thanks to their common passion for Brazilian music. In the years their musical journey developed into a blend of rhythms, styles and languages. Up-tempo Sambas, delicate Bossa Novas, melancholic Italian folk songs, French Chansons and original compositions are brought together with a twist of Jazz and Dolce Vita. Fulvia di Domenico: lead vocals Marijn van der Linden: guitar/cavaquinho Matthias Haffner: percussion setup Wim Dijkgraaf/Hermine Deurloo: harmonica or Remko de Landmeter: flutes Tie Pereira: bass www.fulviadidomenico.com
---
Vatapá

Vatapá ist die Bezeichnung eines Gerichts aus Bahia, ein Püree aus Fisch, Kokos, Nüssen und Gewürzen. Es ist aber auch eine Samba- und Choroband mit Sitz in Nijmegen/Holland! Vatapá wird Ende 2014 ihre zweite CD herausbringen, mit der Gastsängerin Caroline Lobanov. Musiker: Ronald Veerman - Bandolim, Gitarre Sander Eggen - Cavaquinho, Gitarre Frans van Keep - 7-saitige Gitarre Matthias Haffner - Pandeiro, Percussion-Setup Gastmusiker: Ines van Deursen: Kontrabass Caroline Lobanov: Gesang Tamara Maria: Gesang Website: www.vatapa.nl
---